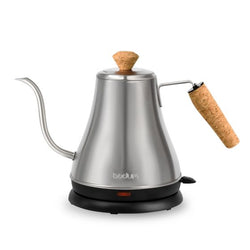 PapaNicholas Coffee
Bodum Melior Gooseneck Electric Water Kettle
This Matte Chrome Gooseneck Electric Kettle is designed for precision pouring, ideal for pour over coffee.
Matte Chrome Stainless Steel
Cordless Electric - 0.8 liter / 27oz capacity
Optimum control over water flow for more balanced saturation and consistent slow extraction.
Ergonomic, non-slip handle made from natural, sustainable cork.
Easy-to-use power switch and automatic shut-off.
Specs:
Width (cm)

23.250
Height (cm)

8.750
Depth (cm)

13.250